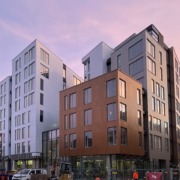 Lokasjon
Tromsø
Størrelse
8500m²
Oppdragsgiver
Pellerin
År
2023
Tromsø er en by med en helt unik karakter, der hovedgaten preges av mange sjarmerende trehus. Den intime skalaen i gamle Tromsø er en viktig attraksjon som gir byen et variert og tiltrekkende miljø mellom disse småskala bygningene.

Skaret hotell, med sine 150 leiligheter, er utformet som en sammensetning av mindre volumer med skala og farger som ligner de gamle husene. Bygningens ytre form forsterker og fremhever dermed kvalitetene i det eksisterende, unike bybildet. Hotellet er strategisk plassert mellom den rette Storgata og den livlige, buede Strandgata som følger den gamle sjøfronten. Fasadeutformingen reflekterer dette ved å være mer formell og lineær mot Storgata, samtidig som den vinkles og brytes mot Strandgata for å følge buene.

Vinduene har variasjoner i høyden, med taktskifter mellom to og tre etasjer, for å skape en skala som ligner fasadene til den eldre bebyggelsen i området. Fargepaletten består av jordfarger og rent hvitt, som er typiske for den tradisjonelle bybebyggelsen i området.

På gateplan har hotellet både restaurant og bar, slik at det nye kvartalet også inviterer til folkelig aktivitet og engasjement utenfor bygningen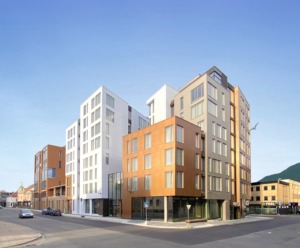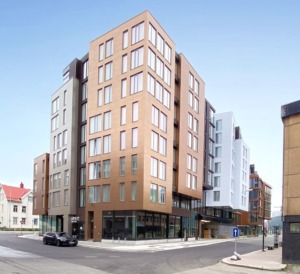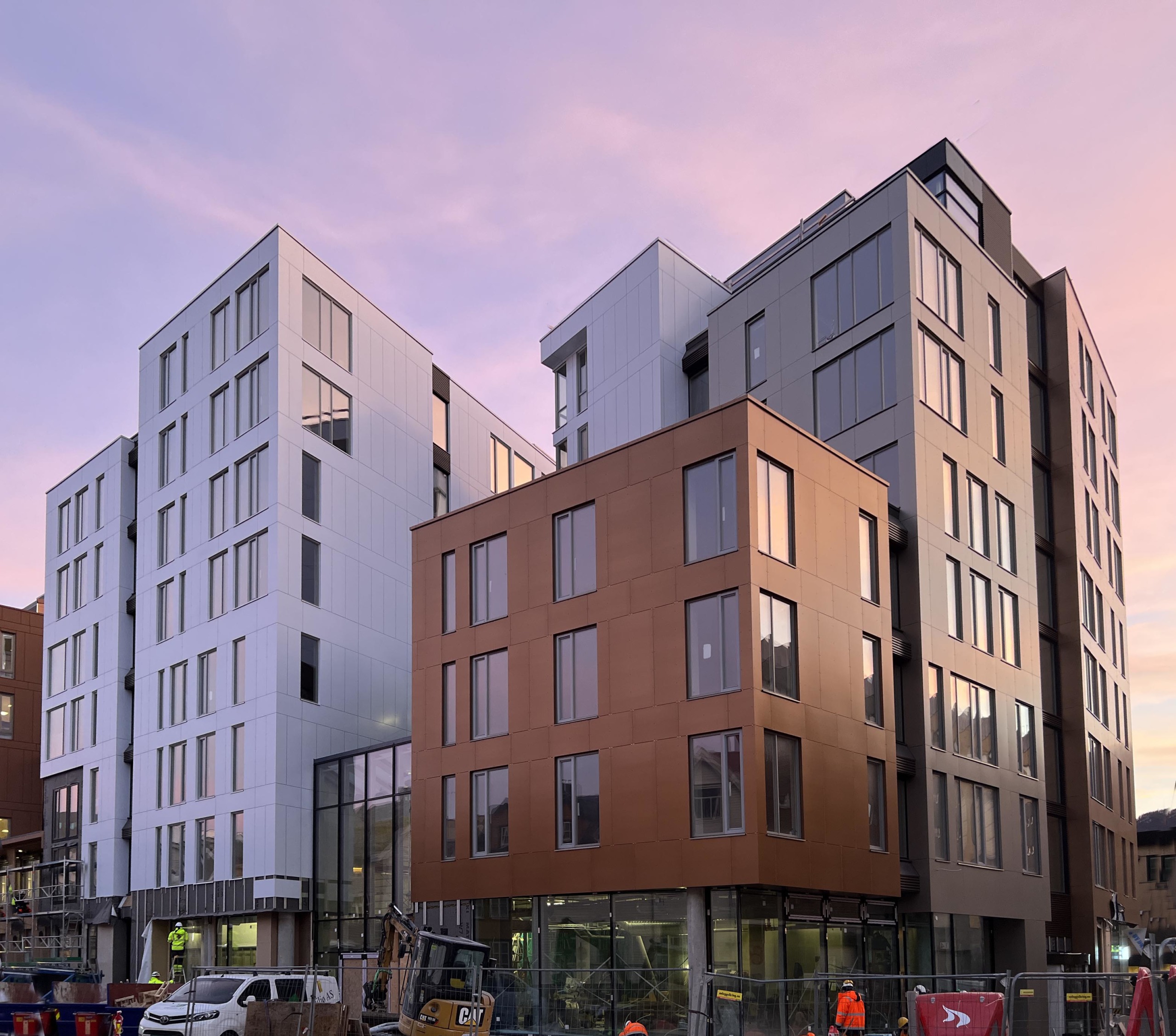 https://www.nielstorp.no/wp-content/uploads/2023/06/Hotell-Skaret-Storgata-25-Tromso-01-scaled.jpg
2255
2560
Herman Hagelsteen
https://www.nielstorp.no/wp-content/uploads/2021/02/logo.png
Herman Hagelsteen
2023-06-30 13:36:12
2023-09-11 11:12:36
Skaret hotell, Tromsø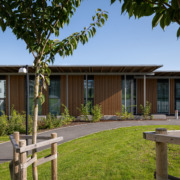 Lokasjon
Sandefjord
Størrelse
5.800m²
Oppdragsgiver
Oslofjord Property AS
År
2022
Tilbygget til Oslofjord konferansesenter er en multifunksjonell struktur som spiller en avgjørende rolle i Oslofjord Village-anlegget. Dette imponerende bygget har store glassfasader som vender mot sør og vest, og et overhengende tretak som skaper en innbydende atmosfære i de omkringliggende utendørsområdene. Hovedinngangen er strategisk plassert mot sørvest ved promenaden og festplassen.

I kombinasjon med det eksisterende konferansesenteret og promenaden, fungerer tilbygget som en sentral knutepunkt og danner en helt ny festplass. Denne festplassen er allsidig og har blitt tilrettelagt for enkel oppsett av telt og annet utstyr for store arrangementer.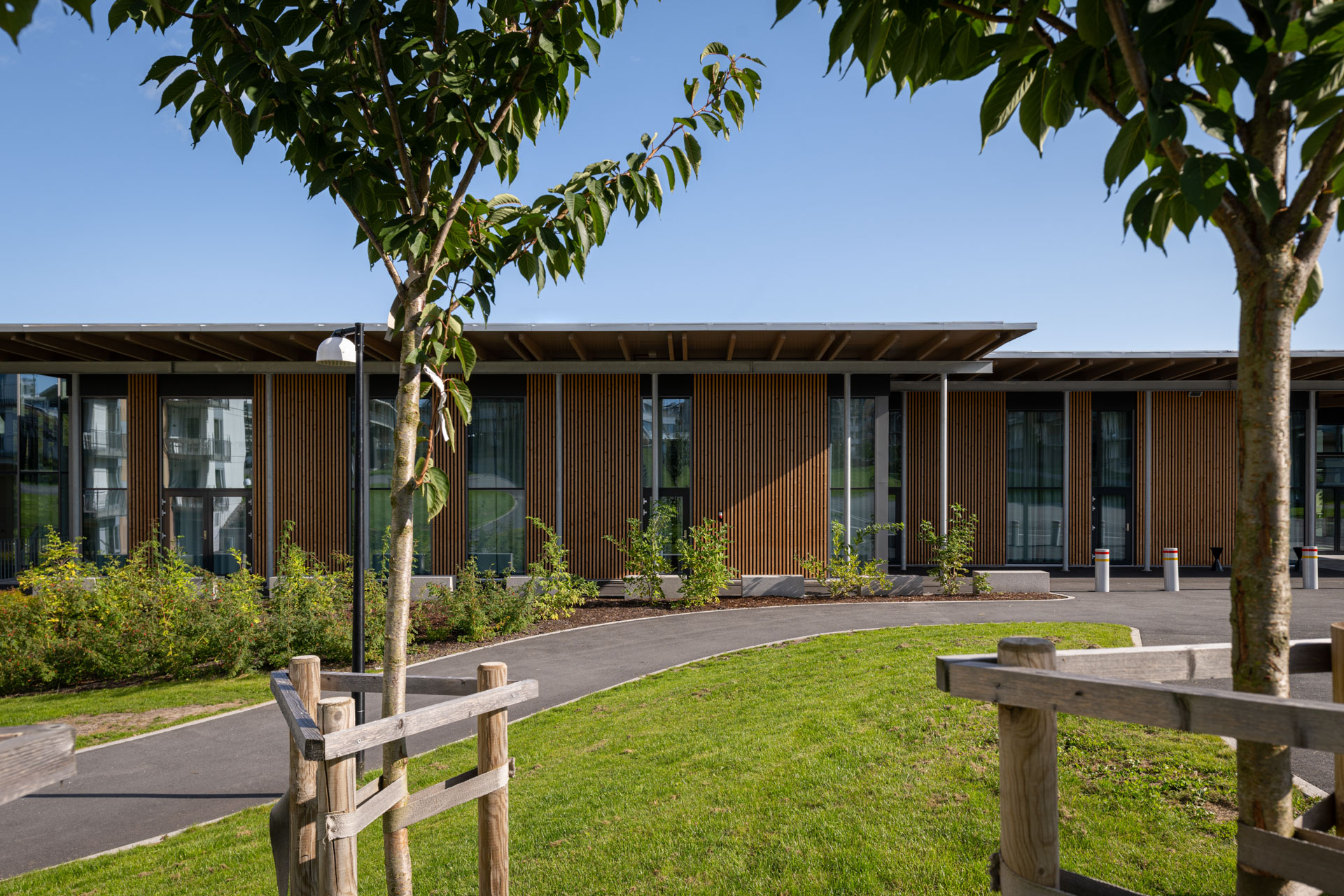 Tilbygget inneholder en rekke funksjoner som komplementerer det eksisterende konferansesenteret, for å kunne tilby førsteklasses opplevelser i tråd med dagens behov for arrangementer. Dette inkluderer konferansefasiliteter som møterom og event-rom i ulike størrelser, samt lagringsplass og andre logistikkfasiliteter for å betjene hele anlegget.

Bygget, som består av to etasjer, er forsiktig integrert i terrenget med et tydelig horisontalt uttrykk. De offentlige funksjonene er samlet på bakkeplan, med åpninger som vender mot sørvest mot promenaden og festplassen. Denne etasjen inkluderer flere møterom i ulike størrelser og en allsidig "black box"-storsal som kan deles inn i mindre seksjoner for å imøtekomme flere arrangementer samtidig. En romslig vestibyle ligger mellom storsalen og festplassen, og fungerer også som et eget arrangementområde for samlinger og utstillinger. Storsalen, vestibylen og festplassen kan enkelt kobles sammen gjennom store dører og porter.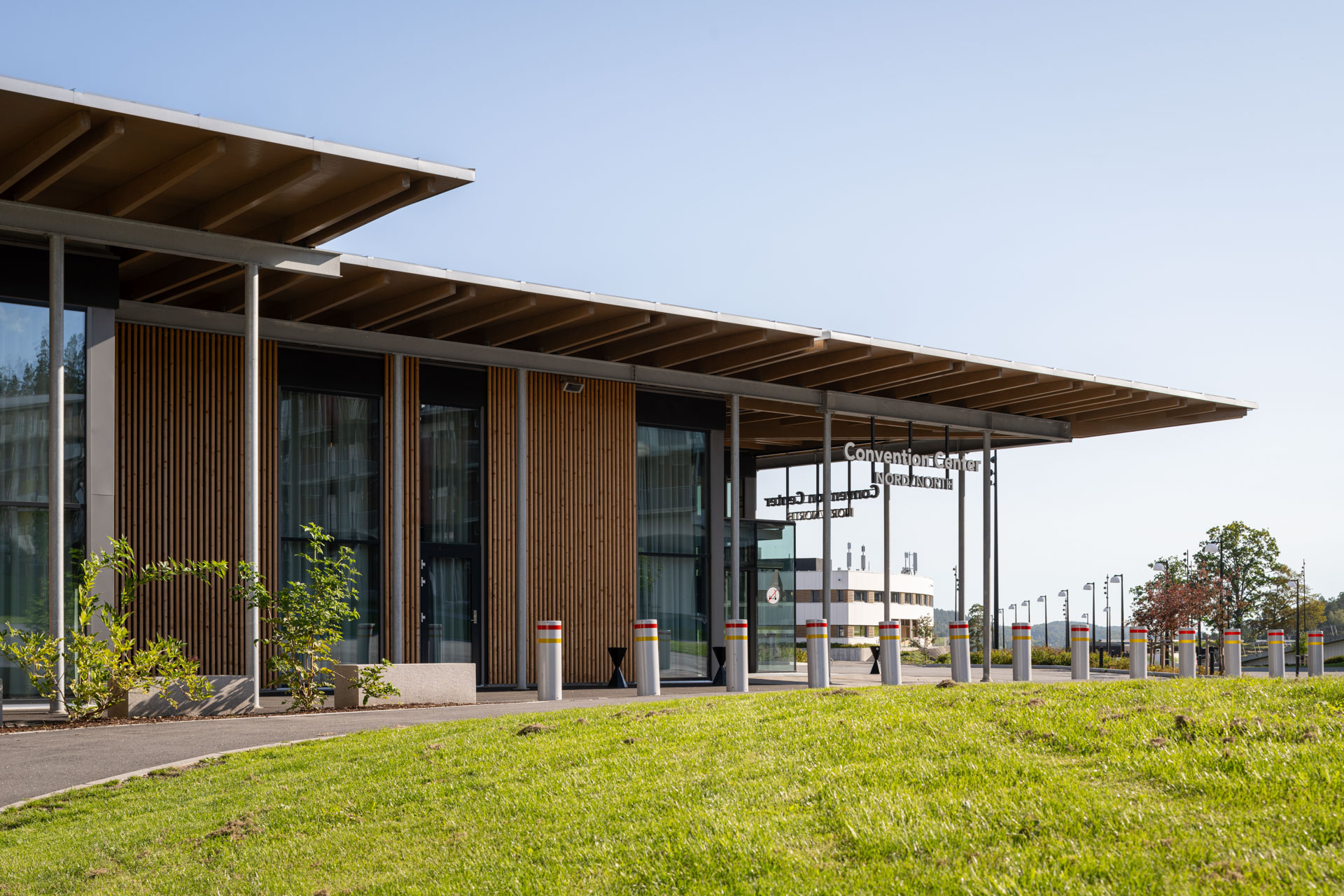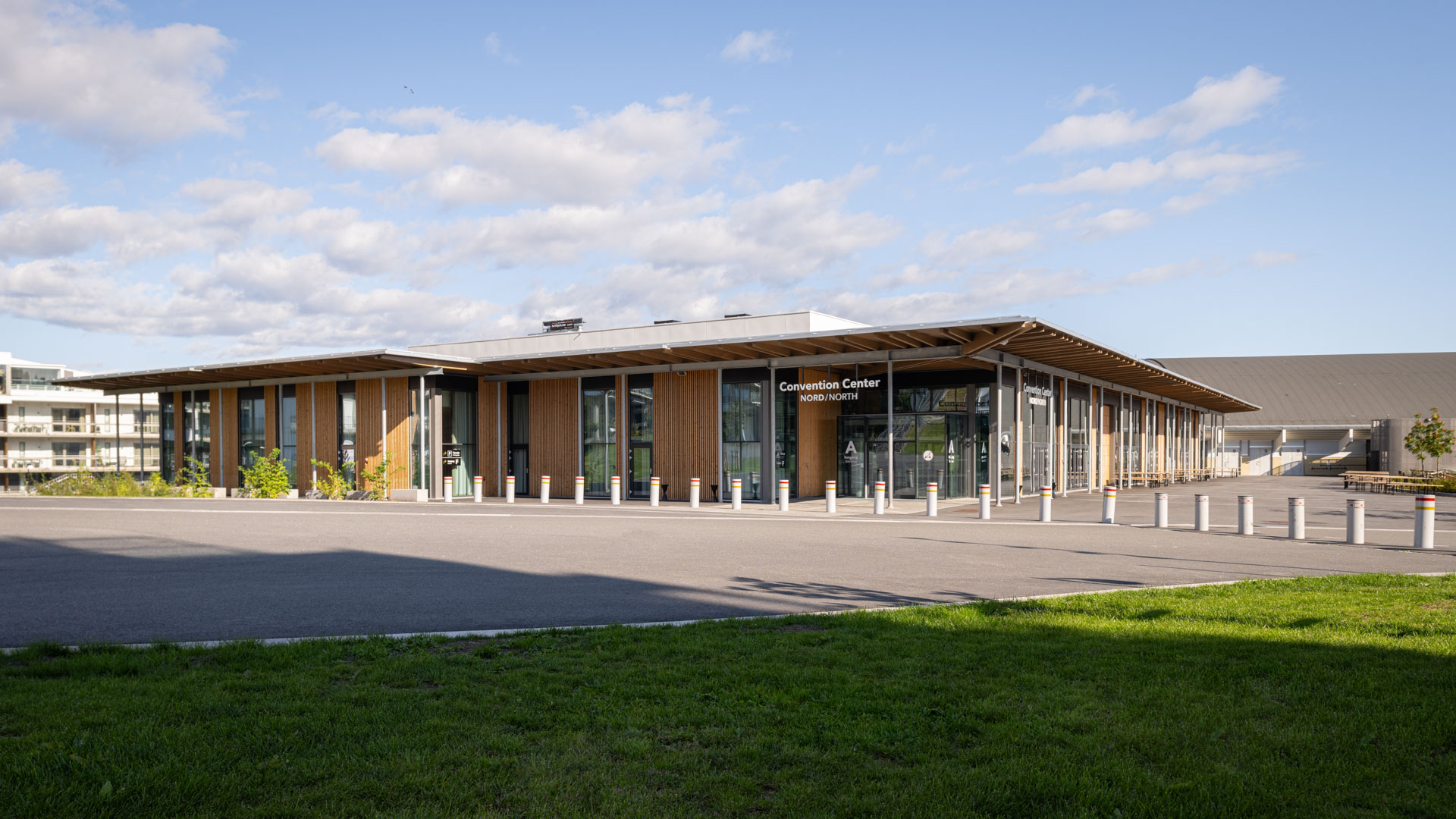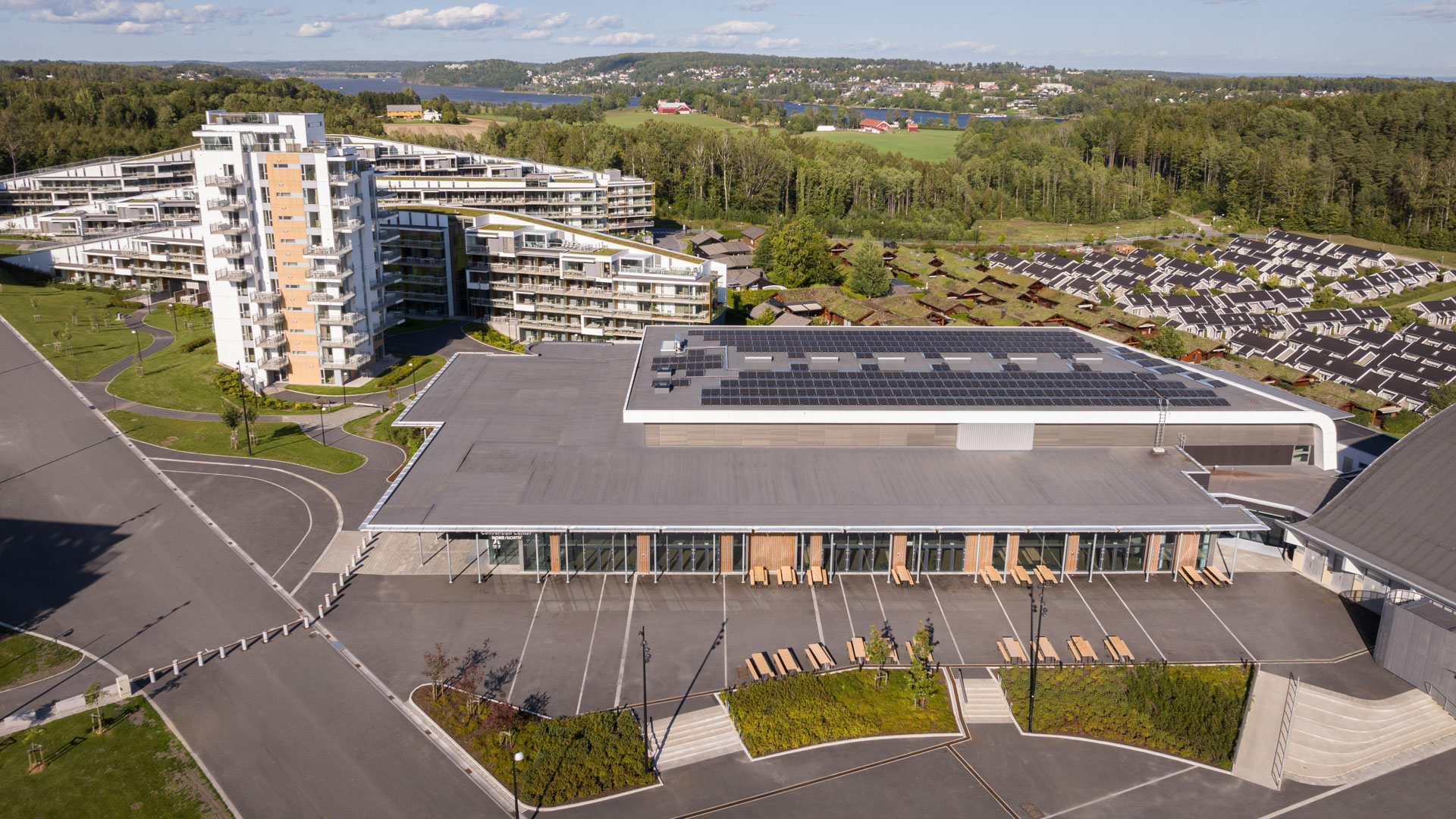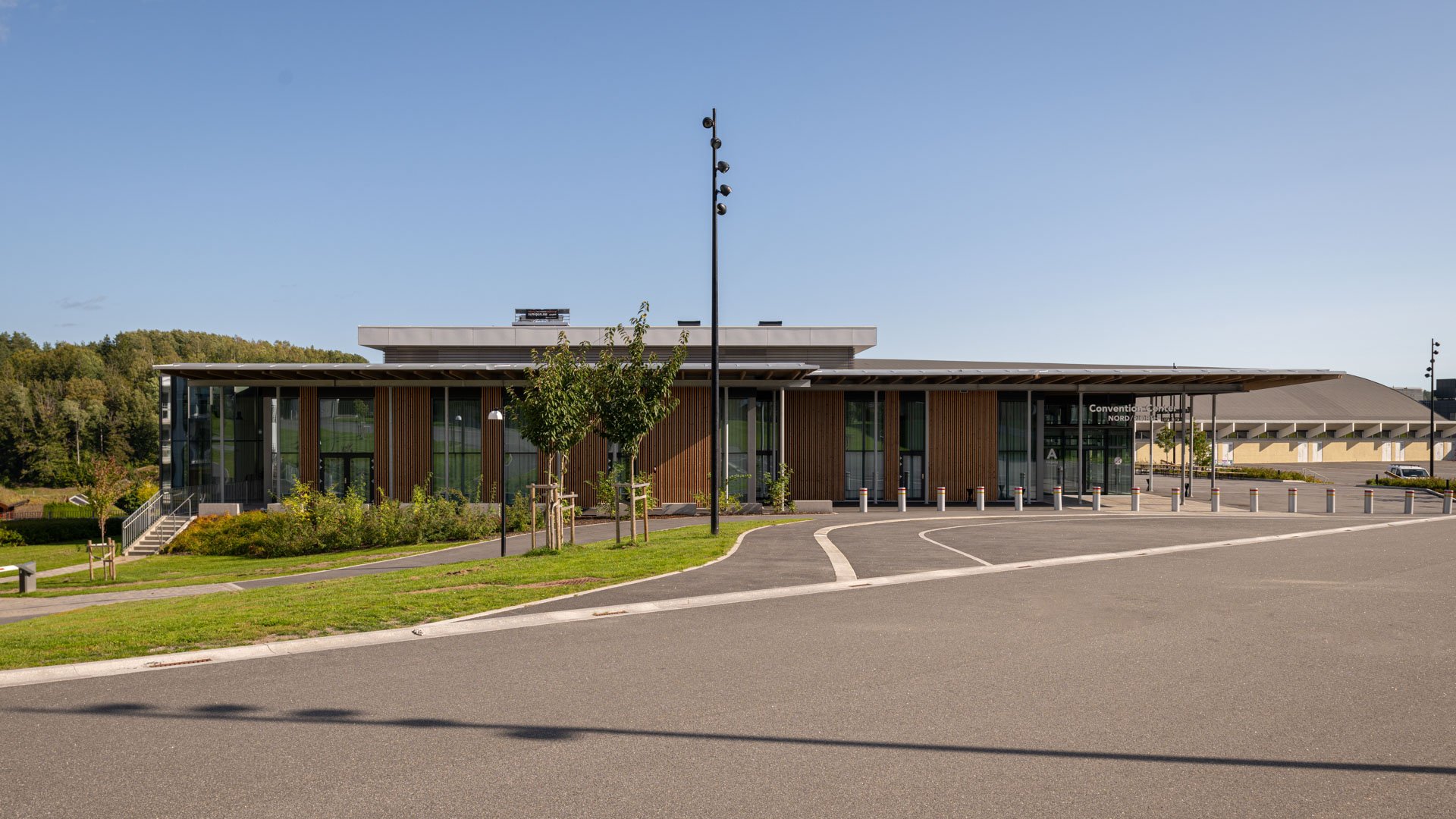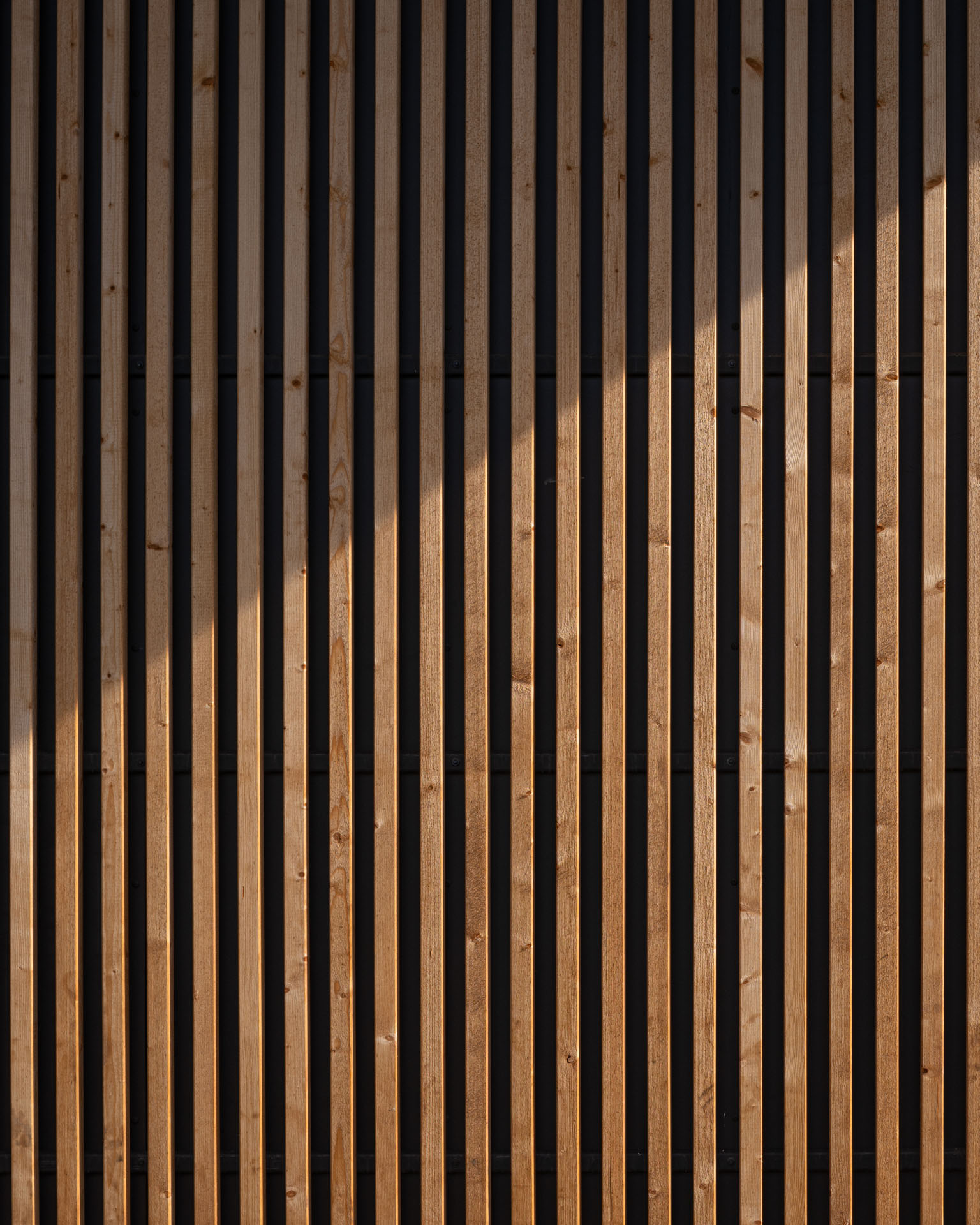 Spilevegger gir et lett, taktilt og naturlig preg.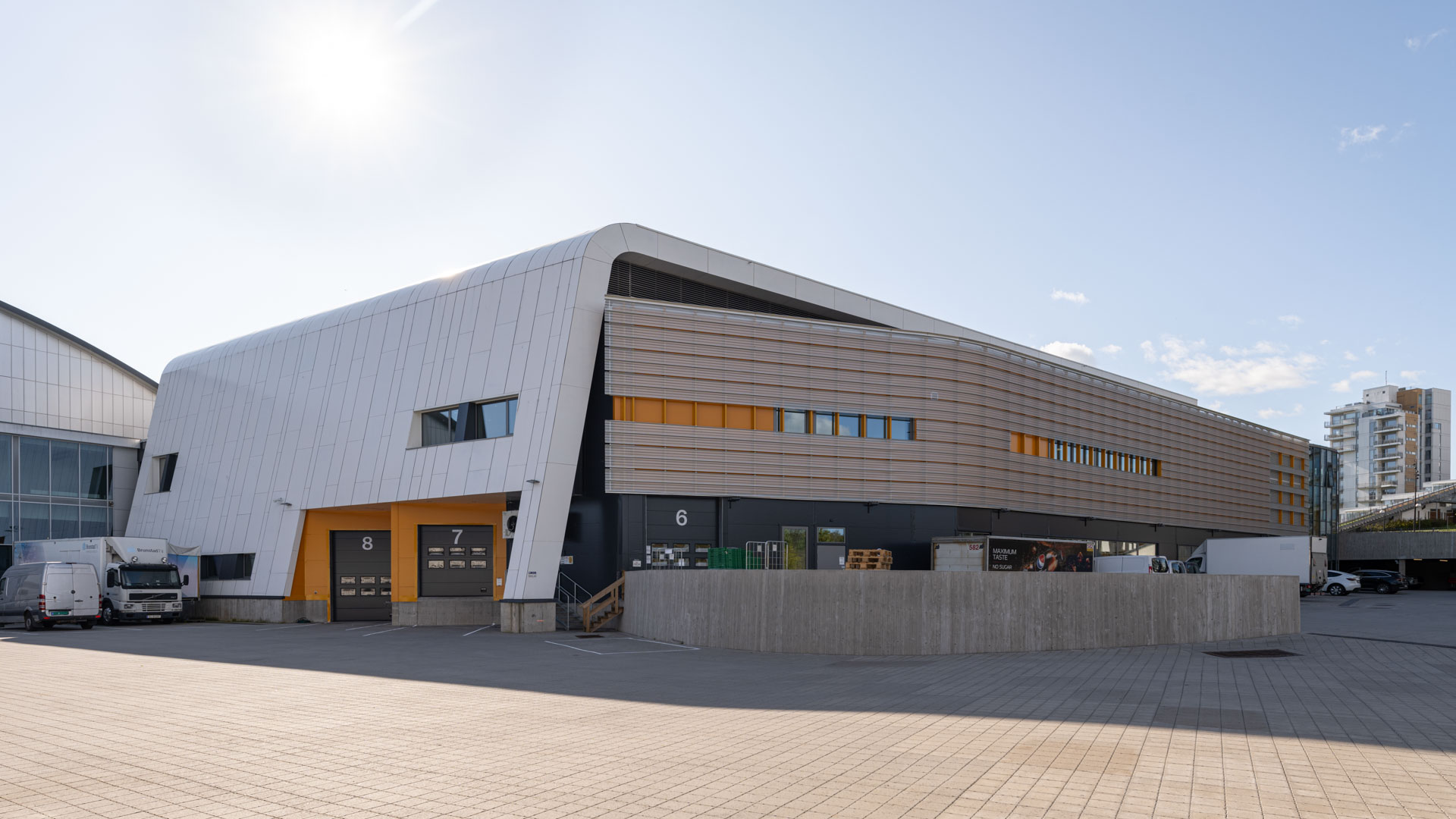 Servicefunksjonene er konsentrert på nedre nivå i plan 1. Disse funksjonene betjener både tilbygget og det eksisterende konferansesenteret og inkluderer storkjøkken, varelevering, tekniske rom og lager. Lageret i kjelleren strekker seg utenfor byggets fotavtrykk og under den nye festplassen. Effektive vertikale forbindelser med vareheiser mellom storkjøkken og lagerområdene sikrer rask servering av mat i salene over og på festplassen under arrangementer. Plan 1 vender mot nordøst og er koblet til den nye økonomigården for hele anlegget, og gir en effektiv plattform for distribusjon av varer, mat og tjenester til hele anlegget gjennom et nettverk av underjordiske tunneler.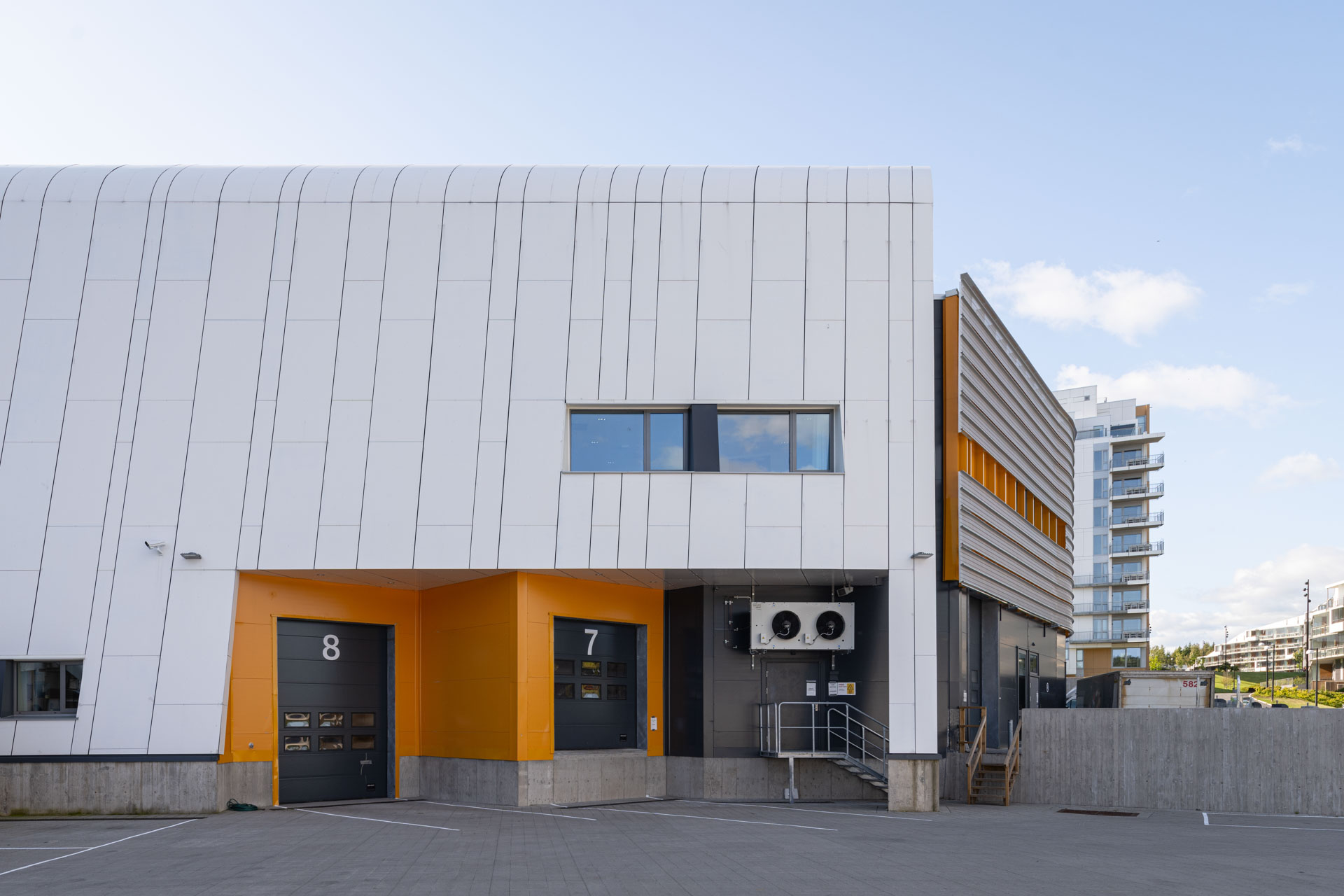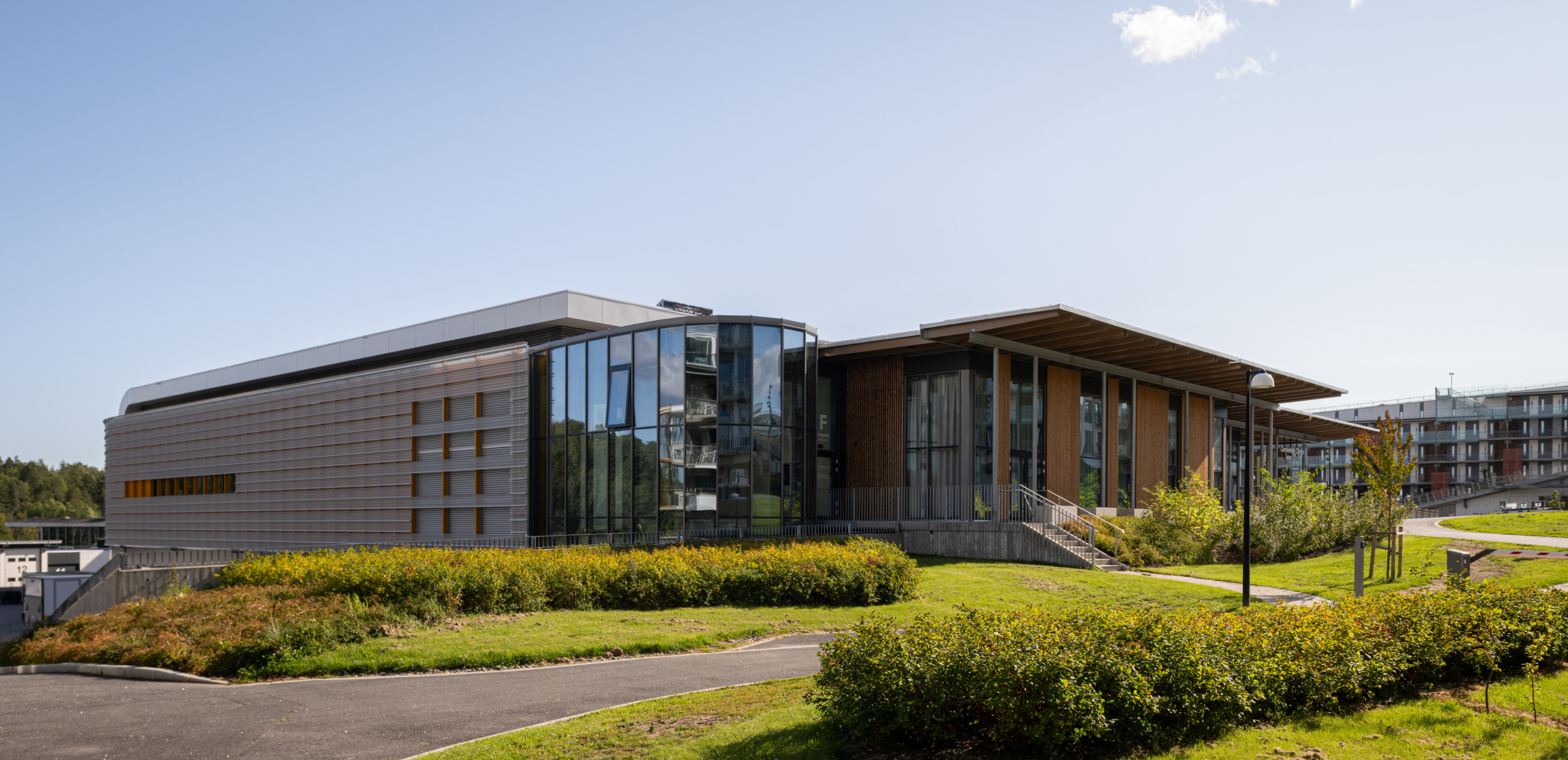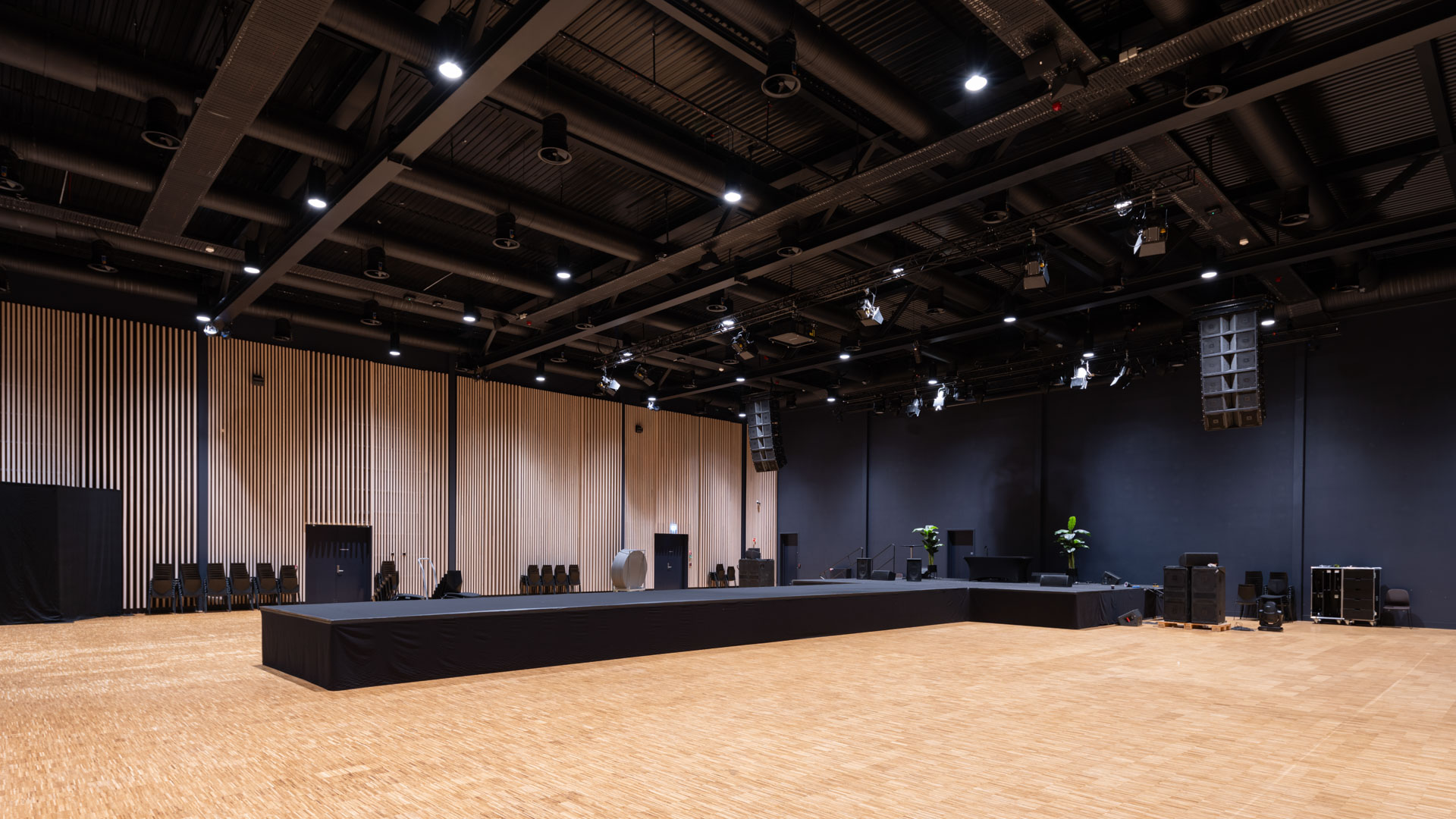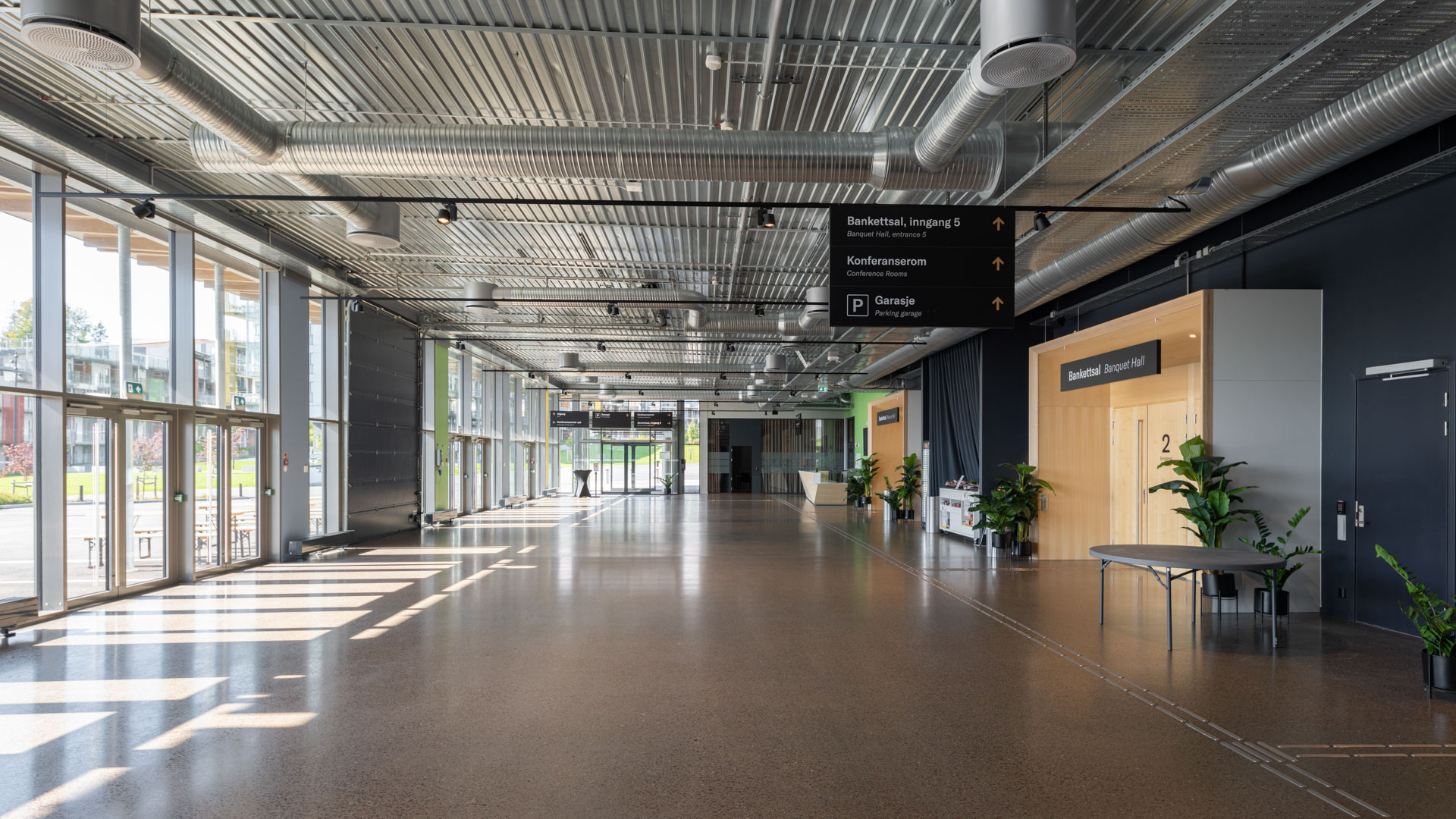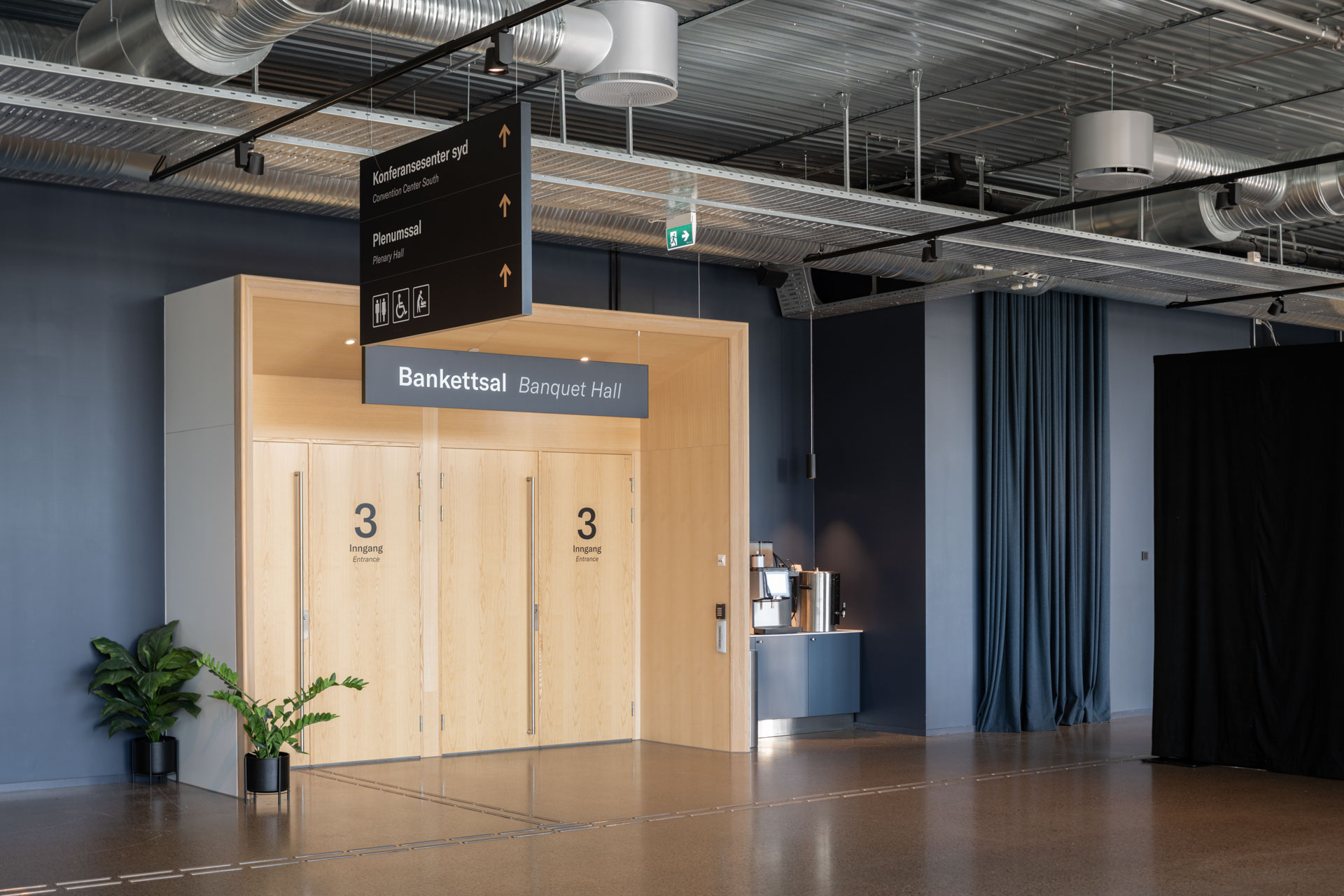 https://www.nielstorp.no/wp-content/uploads/2023/09/Niels_Torp_OCC_CC_Nord-24.jpg
1280
1920
Herman Hagelsteen
https://www.nielstorp.no/wp-content/uploads/2021/02/logo.png
Herman Hagelsteen
2022-12-25 14:31:25
2023-10-10 07:26:26
OCC – Konferansesenter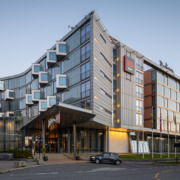 Radisson RED Hotel, Gardermoen
Lokasjon
Gardermoen flyplass
Størrelse
25.800m² – 514 hotellrom
Oppdragsgiver
Avinor v/Hotell Østre AS
År
2022
Hotellet er bygget i to faser. Første byggetrinn på 17.000m² og 300 hotellrom sto ferdig i 2010, mens andre byggetrinn legger til ca 8700m² og 214 nye rom.

Den senere utvidelsen var planlagt ved første byggetrinn slik at utvidelsen oppleves som en sømløs videreføring. Som et effektivt flyplasshotell har viktige kriterier i tillegg til estetikk vært funksjonalitet, driftsøkonomi, lydproblematikk og miljø, energibruk og materialvalg.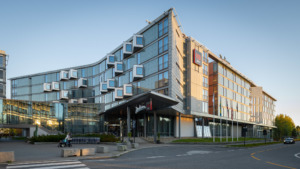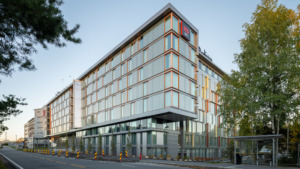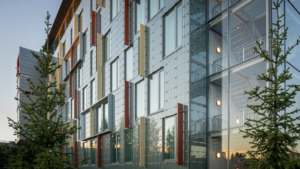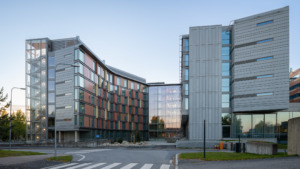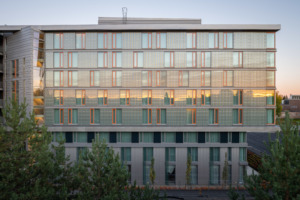 (Photo: Dmitry Tkachenko)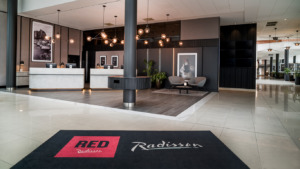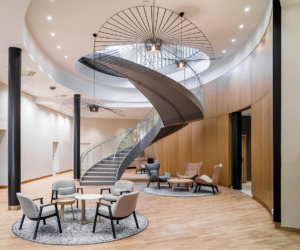 (Photo: Rickard L Eriksson)
https://www.nielstorp.no/wp-content/uploads/2022/10/Niels-Torp-Arkitekter-Radisson-RED-19.jpg
1215
2160
Herman Hagelsteen
https://www.nielstorp.no/wp-content/uploads/2021/02/logo.png
Herman Hagelsteen
2022-10-17 12:31:46
2022-10-17 14:09:58
Radisson RED Hotel, Oslo Airport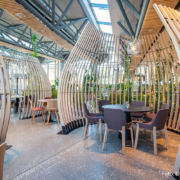 Lokasjon
Stokke
Størrelse
1600m²
Oppdragsgiver
OCC
År
2020
Konferansehotellet ligger i ett vakker landskap. Landskapet er ytterligere formgitt av NIELSTORP+ arkitekter. Landskapet terrasserer seg ned fra hotellets hage, gjennom restaurant og foaje til hovedinngangen. Vannet følger landskapet, fra eksteriør til interiør, og samles i det store vannspeilet ute ved hovedinngangen. Organiske former og planter danner grønne oaser i interiøret, lek med trespiler i store kokonger, bølgende benker og skjermende vegger gir et rikt spill av varmt tre og lys og skygge. Taket med overlys som spenner over restauranten gir rikelig med dagslys ned i restauranten og sammen med de store glassfasadene åpner de opp rommet mot landskapet.
Hotellresepsjon med back-office ligger synlig plassert i foajeområdet. Skranken har fått ett ekspressivt formuttrykk med fasetterte flater i ask-finer, samme formutrykk gjentas i lobbybar, her utført med mørk sortbeiset ask.
Serveringstorget for restauranten ligger skjermet bak en trespilevegg. Overflatene i serveringstorget er lyse og lette, ask og hvit marmor. Møblering i restaurant har soner med langbord, små kafebord og runde 6-8 grupper i kokongene. Dette gir en fleksibilitet for gjestene, og variasjon for frokost, lunsj og middag servering. Materialer og farger er holdt i et lett og lyst "nordisk" uttrykk, tett på natur. Ask og eik, lyst treverk i møbler med innslag av grønn beis, sorte understell på bord og tekstiler fra grønt til rødlige toner.
Lobbybaren har et mørkere og lunere uttrykk med sortbeiset ask, tekstil polstret vegger i sittenisje og mørkeblå vegger. Lobbybaren fungere både som frokostbar og kveldsbar og har store glassflater ut til terrassen og landskapet.
https://www.nielstorp.no/wp-content/uploads/2021/02/Oslofjord-hotell-lobby-3.jpg
1000
1500
Shiraz Rafiqi
https://www.nielstorp.no/wp-content/uploads/2021/02/logo.png
Shiraz Rafiqi
2021-11-07 12:21:08
2023-06-06 10:44:14
Oslofjord Hotel – lobby
Oslofjord Convention Center
Lokasjon
Sandefjord
Størrelse
130 000m²
Oppdragsgiver
OCC / BCC
År
2020
Oslofjord Convention Center er med sine 130.000m² et av Nord Europas største kurs- og konferansesentra. I tillegg til møterom, konferansesaler og multifunksjonsrom i alle størrelser består komplekset også av hotell og utleieleiligheter med 9000 sengeplasser og en flerbrukshall (med bl.a. klatrevegg, ishockeybane og hallområder for allidrett).
Å utforme et prosjekt i denne skalaen med et så allsidig program er en kompleks øvelse. Målsettingen har vært å skape en spennende og dynamisk destinasjon med et helhetlig, samlende grep som er inkluderende for alle aktiviteter og deltakere.
Stikkord har vært dynamiske bygg, med en tydelig arkitektur, som "reiser" seg opp av jorden og strekker seg opp og frem. Mellom husene etableres gode, parkmessige uteområder som sammen med kommunikasjonsårer binder sammen komplekset i en organisering som en egen landsby.
https://www.nielstorp.no/wp-content/uploads/2021/09/Niels-Torp-OCC-14-lyktestolpe-fjernet-scaled.jpg
1709
2560
Shiraz Rafiqi
https://www.nielstorp.no/wp-content/uploads/2021/02/logo.png
Shiraz Rafiqi
2021-09-02 08:48:40
2023-10-12 11:19:10
Oslofjord Convention Center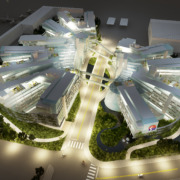 China Eastern Airlines HQ
Location
Shanghai
Size
245 000m²
Client
China Eastern Airlines
Built
2018
China Eastern Airlines is one of the world's major airlines and wanted their new headquarters located at Hongqiao airport in Shanghai to reflect that. The new complex, including interior public areas and surrounding parklands, are designed by NIELSTORP+ architects while the engineering is done by ARUP and construction drawings by local architectural firm ECADI.
The complex totaling approximately 245.000m² has a varied program containing:
Office workplace for 12.000 employees.
Hotel with approx. 400 rooms.
Operation centre for monitoring and preparation of the flights,
Operation centre as a terminal for the crew, where they prepare for the flights.
Training centre.
The square-shaped site is defined by the terminal pier and surrounding office buildings. The site is transformed into a green oasis suited for people by establishing a parkland, with clusters of trees as the outer boundary. Within this square-shaped boundary, we placed the China Eastern Airline village, a series of connected buildings with an amorphous and undulating outline.
A dynamically shaped park emerges as a result of the space between the squares outer boundaries and the undulating outline of the CEA village.
The village consists of horse shoe shaped buildings organized around the central atrium. "Streets" and bridges connects the buildings like in a village with a central plaza, roads and lanes. The atriums constitute the central "living rooms" of the company, where people meet and socialize.
The main atrium is split in two by the main road. The major internal  communication routes circles around and connects the two sides via bridges. The wings of the buildings spread out in the shape of a star. This provides short and efficient communication routes.
Most villages have a monumental building placed in the midst of a plaza. The CEA village has a tower in each of the two atriums that complements each other and binds the village together. Both towers have meeting centers while the north tower also has a corporate management club on the top floors.
To bring light, air and sight-lines into the village the shape of the buildings slopes into the centre.
https://www.nielstorp.no/wp-content/uploads/2018/03/OA025_N20-scaled.jpg
1440
2560
Shiraz Rafiqi
https://www.nielstorp.no/wp-content/uploads/2021/02/logo.png
Shiraz Rafiqi
2018-03-11 14:37:25
2023-06-06 08:06:50
China Eastern Airlines HQ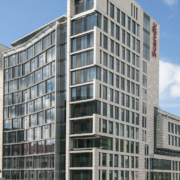 Location
Bergen, Norway
Size
17 642m²
Client
OBOS / Veidekke
Built
2014
Located in Bergen close to the central rail station, the new 365 bed hotel is conceived as a lofty and prominent landmark on one of the main entrance roads into the city centre.
Influenced by the planning regulations which stipulate differing maximum building heights across the site, the building plays on this and acts as a mediator between the heights of the various surrounding buildings addressing the 'towering' neighbour to the south and stepping down to address the large elongated multi-storey car park to the east and the remaining traditional five and six storey buildings which characterise this area of Bergen.
The southern block with its high facade is articulated with a play on the vertical tension from floor to floor, and this contrasts with horizontal emphasis and layering of the facades to the side wings which are lower in height.
The materials are simple and consistent. The main cladding is to be a sheet material that can be bowed and shaped in such a way that relatively deep facade reliefs can be achieved whilst minimising the flashings and edge reveals.
The main cladding is to be white, reflecting a typical renovated Bergen Facade. At night the white faced panels will pick up colour from the internal lighting contributing a contrast of colour compared to the clean white of the facade during the day.
https://www.nielstorp.no/wp-content/uploads/2015/03/Ornen-Hotel-12.jpg
1000
1500
Shiraz Rafiqi
https://www.nielstorp.no/wp-content/uploads/2021/02/logo.png
Shiraz Rafiqi
2015-03-11 16:39:50
2023-06-07 07:09:38
Ørnen Hotel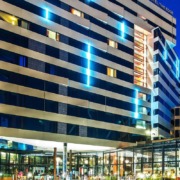 Location
Tromsø, Norway
Size
13 000 m²
Client
Aspelin Ramm/Pellerin AS
Built
2014
First Prize invited competition 2010
The 290 bedroom hotel is located on the exposed site where the Tromsø Bridge and the Arctic Cathedral are prominent elements that sit nicely within the typical North Norwegian distinctive landscape.
The Arctic Cathedral (by Jan Inge Hovig) is of great relevance and we have looked to strike a dialogue between the cathedral and the new hotel. In so doing, we have carefully pulled the head of the hotel back to create a loud and clear signal building that will become prominent in the city. Along with its structure, the new hotel will have some of the same characteristics as the cathedral, it will be clean, simple, with light conceivable forms and characteristic sharp lines.
The hotel will stand boldly against the quay front, tapering down towards the city behind. The hotel will consist of an entrance foyer, reception and restaurant at ground and first floor, with conference facilities in a lower ground floor including auditoria, and ten floors of guest rooms.
The main form is composed of separate wings with a building structure and skin that vary in height and are juxtaposed at angles, creating a series of break points where the change in direction provides openings into lounges on the upper floors and wings of interior corridors giving access to the guest rooms.
At ground level the quay and waterfront is pulled right into the building, with the foyer stepped with terraces allowing the water level to be viewed from all parts of the reception and public interior.
https://www.nielstorp.no/wp-content/uploads/2015/03/The-edge.jpg
799
1161
Shiraz Rafiqi
https://www.nielstorp.no/wp-content/uploads/2021/02/logo.png
Shiraz Rafiqi
2015-03-11 14:42:56
2023-06-30 10:59:31
Clarion – The Edge Hotel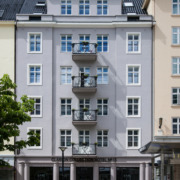 Lokasjon
Bergen
Størrelse
1600m²
Oppdragsgiver
Clarion Hotels
År
2014
Bygningen fra 1926 gjennomgikk en omfattende renovering både utvendig og innvendig, med stor vekt på å bevare de historiske detaljene samtidig som fasilitetene ble oppgradert.
Interiøret skaper et unikt inntrykk med en subtil hyllest til sin historiske opprinnelse samtidig som det er moderne og holder en høy standard.
34 rom og suiter har blitt forvandlet til et boutiquehotell, og med en bar og restaurant i gateplan ønskes både hotellets gjester og besøkende fra byen velkommen inn.
https://www.nielstorp.no/wp-content/uploads/2015/03/Torgallmenningen.jpg
600
379
Shiraz Rafiqi
https://www.nielstorp.no/wp-content/uploads/2021/02/logo.png
Shiraz Rafiqi
2014-03-11 17:01:58
2023-06-28 07:35:27
Torgallmenningen Hotel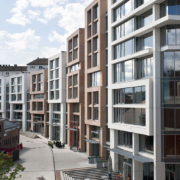 Location
Vulkan, Oslo
Size
9 400m²
Client
Aspelin Ramm v/Vulkan Eiendom
Recognition
Concrete Panel Prize 2012, City Prize 2012
Built
2011
The project comprises a hotel, artist's apartments, office and with a mixture of workshops and bars and eateries in a bazaar-like structure at the lower street level along the main Aker River running through the heart of Oslo.
The building aims to negotiate a transition through steep terrain between the main road, "the floor of the town", and the planned cultural square in and around the old industrial buildings along the riverside.
The compact hotel accommodates 130 rooms, a bar and 100 seats restaurant with views to the river.
The commercial floors are intended to serve as local offices and studios.
The lower level spaces are intended for use as workshops for local artists and various eateries and bars with the tables of a large café/restaurant spilling out onto the square to form a focal point at lower street level.
There are also programmed apartments, duplex and studios in the 4 floors of the smaller block-like structures
The primary challenge was to create a mediator for the existing dominant 1940s blocks at upper ground level and the attractive brick and steel industrial riverside buildings from the turn of the 1890s without extinguishing either. The hotel starts roadside at it's highest point, and steps gradually downwards toward the river in a controlled manner that offers greater views and light to the existing buildings than the regulated site lines would have allowed without affecting the maximum area.
The project forms a dramatic ending to the long façade of the existing 40´s blocks at upper street level creating a portal to the cultural square.
The building's gentle curving motion envelopes and gives a stable backdrop to both the existing buildings and the programmed cultural square.
The structure is primarily steel with concrete slabs, clad with cement fibre board cladding and render.
The roof of the overbuilt area between the existing 1940s blocks and the new scheme forms an attractive communal garden.  At the northern end a planted terracing opens the restaurant and reception to the communal garden.
https://www.nielstorp.no/wp-content/uploads/2015/03/Vulkan-Oslo-3.jpg
1000
1500
Shiraz Rafiqi
https://www.nielstorp.no/wp-content/uploads/2021/02/logo.png
Shiraz Rafiqi
2011-03-11 17:38:25
2023-06-29 10:41:37
Vulkan, Oslo
Scroll to top